The quality of our aggregates makes a positive impact on the success of any project in Barrie.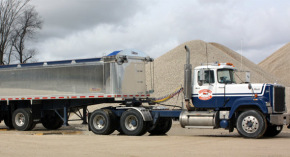 You will find the quality and selection you need and want when you turn to us at Flesherton Concrete Products for aggregates. The quality of our aggregates makes a positive impact on the success of any project, whether you are constructing a new foundation for your home or redoing a commercial landscape. Our selection is extensive, our prices are competitive, and we offer convenient delivery services in the Barrie, Ontario area.
Our aggregates can be divided into several key categories, which include:
Sand—We offer a variety of sand supplies, including playground sand, mason sand, and filter sand, so your next project is easier to complete.
Gravel—Our gravel options are highly varied and include B gravel, A gravel, and crushed gravel. These gravel types work well for many different applications.
Stone—Whether you need limestone for landscaping or crushed stone to pave a walkway, you'll find exactly what you need when you turn to us.
Limestone—Not only does limestone work well as an aggregate, but it also works well as a component of concrete. Some of its benefits include durability, strength, and reduced drying shrinkage.
Recycled concrete—When you are repaving an area or working on an ongoing construction project, our recycled concrete makes an excellent road base.
Determining the Quality of Your Chosen Aggregate
At Flesherton Concrete Products, we are confident that we produce the highest-quality aggregates to meet the needs of our customers. If you are selecting aggregate for the first time or need to work with a product out of the ordinary from your usual selection, you may have questions about how to tell if an aggregate is really the best quality. Here are a few simple guidelines that can help you determine whether your product will perform well:
Absorption – Depending on your application, you may want an aggregate material that is more or less likely to absorb moisture. For example, you might want mason sand that will hold up against inclement weather or a gravel product that will wick water away from your landscaping.
Resistance – One important quality of aggregate products is the resistance to abrasion over time. For example, concrete should be able to handle high-traffic areas and/or heavy equipment operation without fail.
Soundness – Another important factor when considering aggregate quality is how it maintains its placement once applied. You want playground sand that won't blow away as soon as its laid, and you want gravel that won't shift outside of its designated boundaries with normal disruption.
Every application of aggregates is a little bit different, and that is why it is so important to have high-quality materials. At Flesherton Concrete Products, we'll be happy to recommend the aggregate products that make the most sense and will provide the best results for your project. Our experience working across many industries makes us your aggregate company of choice.
At Flesherton Concrete Products, we are eager to introduce you to the quality of our aggregates. For more information about our options and pricing, reach out to us today.
---
At Flesherton Concrete Products, we offer aggregates to customers in Collingwood, Wasaga Beach, Flesherton, Orangeville, Owen Sound, Barrie, Stayner, Mulmur, Shelburne, and Mount Forest, Ontario.
Similar Services We Offer: