Aggregates, Owen Sound, ON
Your project requiring aggregates is in good hands!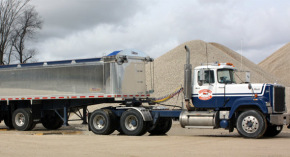 When you need aggregates for a project in the Owen Sound, Ontario area, there are two pressing matters that you have on your mind: a quality product and being able to get it delivered in the quantity and timeline you need. Here at Flesherton Concrete Products, we're proud to offer a wide variety of ways we can deliver aggregates.
We have dump trucks, stone slingers, dump trailers, live bottoms, and hoppers. We have a wide variety of equipment in sufficient number to handle the task at hand. You can count on us to keep your project on time because if we don't feel we can reasonably deliver prompt and proper service, we won't take on the job to begin with.
The quality of our aggregates is second to none, as we've gained plenty of experience since beginning in 1985. Combined with our dedication to meeting our customers' diverse needs and maintaining competitive prices, we are confident we are your best choice for getting the aggregates you require for your project.
If you do not want to settle for anything less than quality aggregates and customer-centred service, call on us, and we'll be happy to discuss your project. We deliver aggregates for a variety of projects, including using our slingers to provide the materials for under basement floors and weeping tile projects around the outside of a foundation. These are the types of projects where quality really matters, so trust our commitment to giving you the results you require. Call today to learn more.
Common Questions About Our Aggregates
Aggregates are one of our most popular products at Flesherton Concrete Products. We can deliver gravel, sand, and stone to your home or job site for a competitive price. Below, we have answered some common questions we get asked about our aggregates and delivery process below.
Are there limits on the order sizes of aggregates you can deliver?
No. We can fulfill even the largest orders for aggregates because we have the right equipment. Our fleet of delivery trucks includes dump trucks, dump trailers, stone slingers, hoppers, and live bottoms.
What sets your aggregates apart?
The quality of our aggregates is second to none. We realize that the quality of the aggregates you use can affect the overall quality of your project, so we strive to only deliver the best.
How are your aggregates used?
Our aggregates can be used for nearly any project that requires a rock or gravel base. For example, we can use our slingers to provide the material needed for weeping tile projects or for under basement floors.
How much experience does your company have?
We have been delivering aggregates throughout the Owen Sound, Ontario area since 1985. This experience is one of the reasons why we are an ideal source for quality aggregates.
Can you help me place an order?
Yes! If you need aggregates for a project, give us a call. We can help you determine the best type of aggregates for your project as well as the correct amount.
---
At Flesherton Concrete Products, we offer aggregates to customers in Collingwood, Wasaga Beach, Flesherton, Orangeville, Owen Sound, Barrie, Stayner, Mulmur, Shelburne, and Mount Forest, Ontario.
Similar Services We Offer: