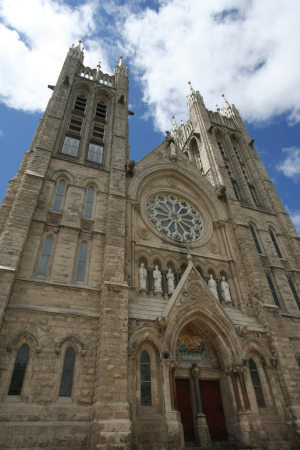 Did you know that limestone has been used for construction for hundreds of years? Ancient temples, medieval castles and churches, and some pyramids were built using limestone. In the 20th century limestone was used for many buildings, including train stations and banks. There are several reasons that people have relied on limestone for so many years. Here are a few:
Ease of use – In ancient times limestone was likely chosen because of it has a uniform colour and texture and it could be easily carved. Today, limestone can be easily shaped into blocks or bricks.
Dependability and longevity – Limestone is an excellent choice for buildings meant to last for many years to come. Limestone is dense and strong. Because it has few pore spaces, it is less susceptible to freeze-thaw. Though limestone will corrode over time, the corrosion won't impact the structural integrity of a building because it is superficial.
Versatility – Limestone has many uses including road base, railroad ballast, concrete or cement, and other construction uses. Though most limestone is off-white, the limestone used in construction projects comes in a variety of colours, including cream, black, gold, brown, pink or red.
Keeps buildings cool – Limestone can help keep your utility bills down because it is a good conductor of heat. Not only will this save you money during warmer months, but it's also good for the environment.
Affordability – In comparison with other aggregate products, limestone is very affordable and will likely help your construction budget.
Here at Flesherton Concrete Products, we provide only high-quality products. With more than 30 years of experience, you can rely on us to help you know if limestone is a good choice for your construction projects. Contact us today to learn more.