A gravel driveway can bring out the beauty of the exterior landscape.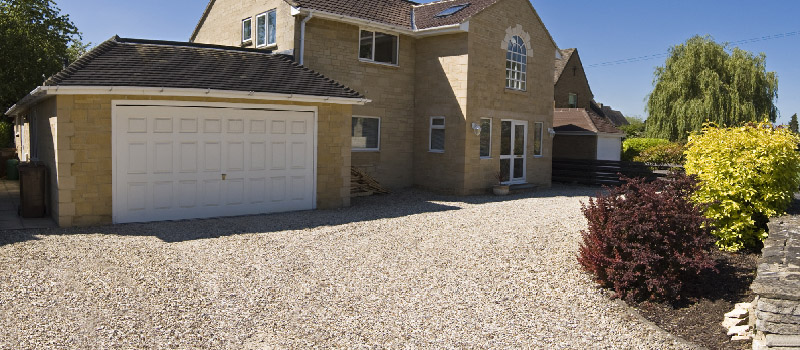 When someone arrives to your home, one of the first things they will notice is the driveway that leads up to the house. However, many homeowners don't spend a lot of time thinking about the aesthetic appeal or value that a driveway can add to the exterior. The material you choose for this area of your property can have an impact on its appearance, as well as its durability and overall functionality. If you have clients who are unhappy with their current driveways, you may want to recommend an upgrade. A gravel driveway can be a good addition to any style of home, adding a lot of value.
A gravel driveway comes with a number of benefits. This crushed stone material is commonly used on properties across the country, partly because it's one of the most cost-effective options available. When your client has a long driveway, the cost to replace it can quickly become too high. However, when you stick with budget-friendly gravel, you don't have to worry about sticker shock. Gravel is also easy to maintain. If any of the areas sink due to weather conditions, you can add another layer to fill in the gaps. Gravel also allows ground water to flow properly because it is a permeable material.
When you rely on the gravel available from our team at Flesherton Concrete, you can offer more options to your clients as well. A gravel driveway can bring out the beauty of the exterior landscape. Best of all, you can install a gravel driveway quickly and efficiently with the materials we deliver to the site.
---
At Flesherton Concrete Products, we can help you build a gravel driveway in Collingwood, Wasaga Beach, Flesherton, Orangeville, Owen Sound, Barrie, Stayner, Mulmur, Shelburne, or Mount Forest, Ontario.